These children without healthcare?

This is what they do after receiving $3.2 billion in stimulus money?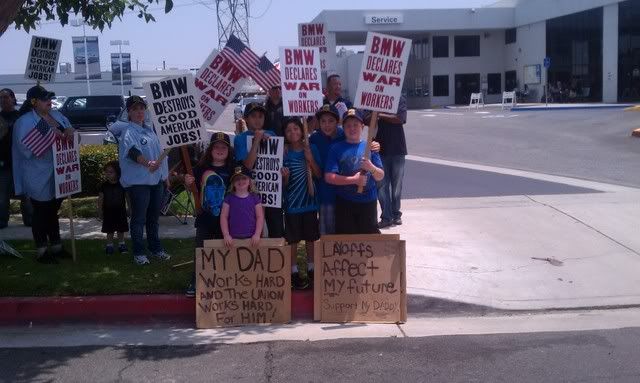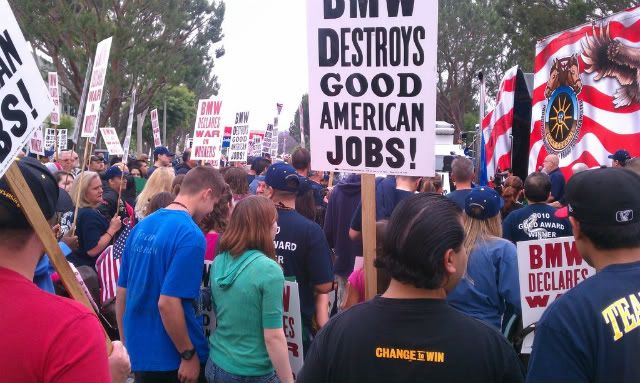 Teamsters to protest at BMW parts center in Ontario
Created: 06/14/2011 06:53:16 PM PDT
ONTARIO - The Teamsters Union held a rally outside BMW Group's parts distribution center to protest developments they say will lead to the elimination of dozens of union members' jobs.
Teamsters and the automaker, which maintains its U.S. offices in New Jersey, have differing versions of still-pending events related to the Ontario distribution center, where BMW Group is planning a reorganization.
Both sides confirm, however, that Teamsters' contract ends on Aug. 31 and that BMW will bring in a contractor to run the distribution center.
As of Tuesday, it was unclear whether any of the

Teamsters Local 495 represents 65 warehouse employees at the Ontario distribution center. The union has represented local BMW employees for some 40 years without a previous labor dispute, said Bob Lennox, the local's secretary-treasurer.
center's facility would be able to be rehired at distribution center at pay and benefits levels similar to what they currently earn.Employees of the Ontario parts distribution center make $25 per hour and receive full health benefits, according to Teamsters.
But that changed, he said, during a June 3 meeting between BMW executives and Teamsters representatives.
Lennox and Gene Rivera, a business representative who attended the meeting, said they expected to the union would be negotiating a new contract and were surprised to learn of BMW's plans to terminate the company's business relationship with Teamsters.
"Just like that. Boom," Lennox said.
But whereas Teamsters representatives say BMW will replace the union's members with "unskilled, low wage employees," a BMW spokesman would not say specifically whether current employees would be able to re-apply for their jobs at comparable pay and benefit rates when the new operator takes over.
Questions of severance pay, rehire and similar issues are subject to pending negotiations, said Tom Kowaleski, BMW Group's vice president for corporate communications.
"We will work with the Teamsters on an orderly transition," Kowaleski said by telephone on Thursday. "Anything else will be the results of those discussions."
BMW Group has not yet selected a contractor to run the Ontario distribution center, Kowaleski said.
The fate of the distribution center's clerical workers and middle-management was not clear Tuesday.
Lennox said BMW Group executives informed Teamsters that the distribution center's non-union employees will also lose their jobs at the end of August, but Kowaleski said he did not have the first-hand knowledge necessary to confirm whether that was accurate.
The automaker's reorganization plans call for a "highly specialized" firm to run the Ontario center, Kowaleski said.
BMW Group also has contractors run parts distribution centers in Florida, Indiana, Illinois and Mississippi, he said.
Read More Comments